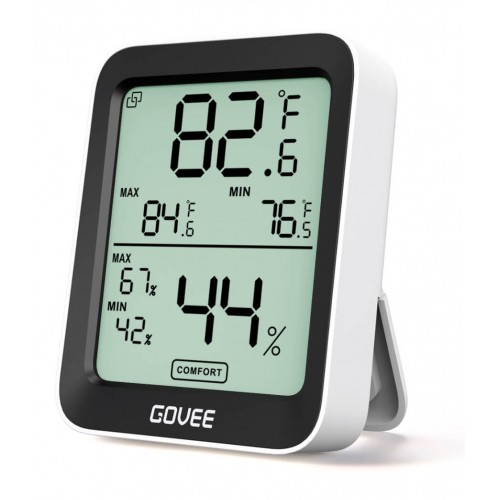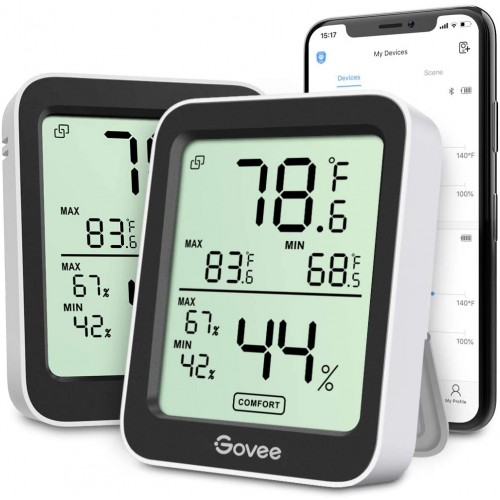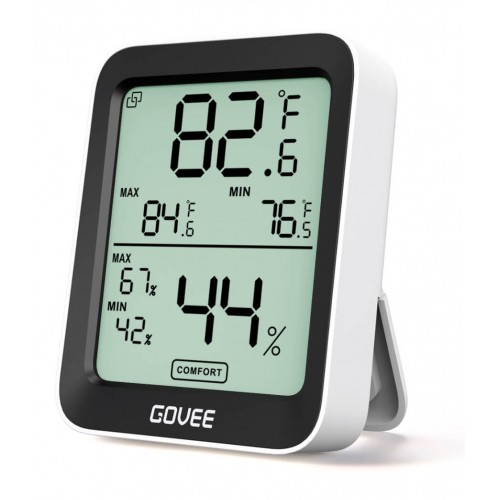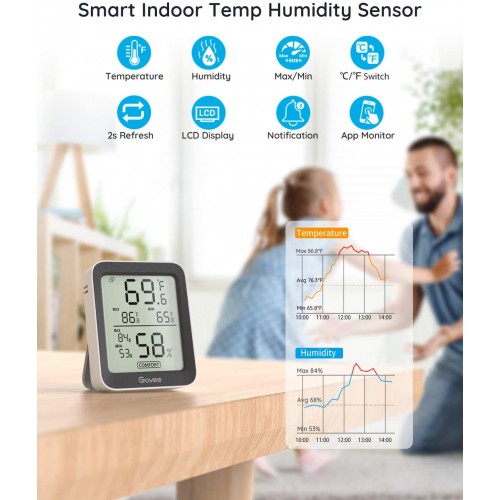 Govee_Bluetooth Humidity/Temp Monitor | Iphone Android Compatable
With built-in Swiss-made SHT30 sensor, it provides accurate monitoring that you can trust. The temperature is accurate to ±0.5℉ and the humidity is ±3%RH. | Highly accurate monitoring offers you a chance to stay the self-organized terrarium system in a proper environment.| Iphone & Android Compatible for graphs etc
Single and Twin pack available
Plus, up to 2s responsive speed always show you the latest readings. Thus timely adjustment for air comfort can be taken. No doubt that your mini succulents will grow up healthily with such careful protection.
User-friendly Data Storage and Export
20-day local and 2-year cloud data storage enables you to view recent data for any place in your home. A concise curve graph displays clear data-changing records on the app, allowing to track temperature and humidity you care about. Valuable cigars, artwork, wine as well as musical instruments do deserve your attention and efforts.
Considering the diverse demands users may have, our Govee Thermo-hygrometer also features a data export function. That means you can export the latest 2 years records to CSV format at any time.
20-day-Local storage
2-year- Cloud data storage
Hassle-free LCD Display
---
High-resolution LCD screen displays 3-level comfort indicators: dry, comfort and wet. Keep aware of whether your lizard, hedgehog or other cute friends live in an optimal condition with just a quick glance. And make sure you are able to create a comfortable little house for your pet friends.
It offers maximum and minimum records all the time, making it easy to compare the current data to those of the past. ℉/℃ switching puts your using experience at top priority. Govee Thermo-hygrometer is definitely a perfect household device to help you and your family's living condition healthier.
Technical Specs
---
Temperature Accuracy ±0.3°C/±0.5°F Range 0°C - 50°C
Humidity Accuracy ±3%RH
Operating Humidity 0%RH - 99%RH
Bluetooth-enabled Range 80m/260ft
Size H 3.11" x W 2.56" x D 0.75 inches
Download the Govee Home app from the App Store (iOS devices) or Google Play (Android devices).
Stock:

In Stock

Model:

Meter_Govee_Bluetooth Single & Twin pack