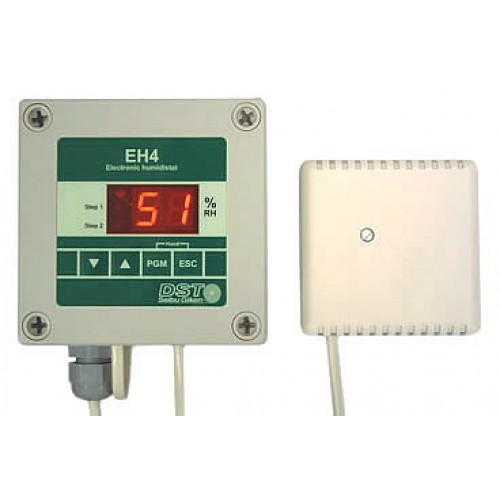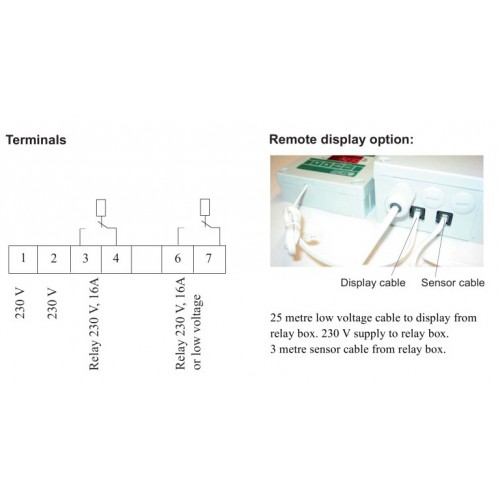 EH4 Seibu Giken DST Humidistat
EH4 Seibu Giken Electronic Humidistat
Designed in Sweden
Two independent volt-free control relays
Independently programmable relays with adjustable hysteresis.
Suitable for Hi/Lo/Off control of one dehumidifier, On/Off control of two separate dehumidifiers or On/Off control of one dehumidifier plus remote high RH alarm.
Two independent volt-free control relays.
High visibility RH display (15 mm).
Neon lamps indicate relay operation.
Display flashes if High RHђ set point is exceeded.
Optional remote display extension kit (200 metres max).
Honeywell fast response capacitive type moisture sensor.
Factory calibrated (accuracy < 2%RH).
Available for wall or duct mounting.
Optional 25 metre RJ9 extension cables (50 metres max).
Specifications
EH4 Electronic Humidistat
Make
Seibu Giken DST (Sweden)
Model
EH4
Sensor
3m
Measuring range
0-99%RH (non condensing)
Accuracy
<2%RH in the full measuring range
Response time
At low airspeed, 30 seconds
Mounting
Wall Assembly
Sensor type
Room sensor, 3 m sensor
Box
Dimensions
height: 100 mm, depth 60 mm, width 100 mm
Display
1 row LCD
Programming
Four push-buttons for programming.
Casing
IP44, Sensor box IP20, option IP65. Surrounding temperature: 0-55C
Weight
0.6 kg
Mounting
4 screw holes 4 mm
Option
Separate display box with 25-metre or 50-metre low volt cable
Connections and programming
2 separate relays
Potential free, max 230VAC 16A each (needs to be hardwired)
Visual alarm
Display blinks when the set value is reached
Cable size
Maximum 1 x 1.5mm2 per terminal
Supply
230VAC, 50-60Hz (cable not included)
EFFICIENT - RELIABLE - DURABLE
TWO CLOSING CONTACTS
DISPLAY AND DIODES
SENSOR
Stock:

In Stock

Model:

Seibu-Giken-EH4

SKU:

Seibu-Giken-EH4

SeibuGiken