Availability:

In Stock

Product Code:

Seibu Giken R-51R
Description
Swedish built Industrial Quality Desiccant Dehumidifiers
SEIBU GIKEN
RL051
175L/day Desiccant Dehumidifier System. Designed as an installation unit with ducting ports - Works efficiently at low temperatures
.
Suitable for: Large warehouses, sports halls, manufacturing areas, museums, art galleries etc

EFFICIENT - RELIABLE - DURABLE
SEIBU GIKEN DST - RL-51R Commercial Desiccant Dehumidifier
This mid ranged Swedish designed desiccant unit is manufactured from stainless steel and includes internal heat recovery, electric re-activation and auto-manual mode switching. The unit comes pre-wired for simple humidistat control.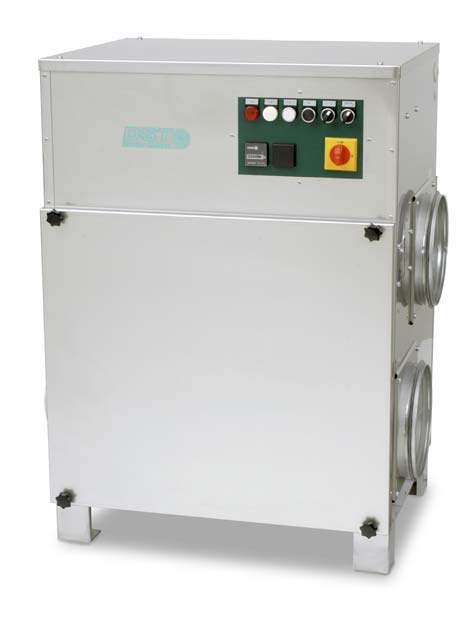 High efficiency at low temperatures
Possibility of continuous operation (24 h/day)
EH-4 digital humidity control available as an add-on$POA
How it works
Specification Sheet
Specifications
175 L Seibu Giken DST Desiccant dehumidifier

Model

R-51R

Dry Air Flow M3

1250 m3/h

Water Removal Max (20C/60%RH)

175 Litres/Day

Adjustable Humidity Range

Available by EH-4 controller add on

Operating Temperature Range

-20 to 40 Celsius

Noise Rating dB

70dB

Rated Dry Air Flow

1250m3 /hr

Rated Wet Air Flow

430m3 /hr

Make

Seibu Giken DST (Sweden)

Warranty (Manufacturing)

1yr RTB

Power

Power Supply

400V 3 Phase Power

Maximum Power Consumption

10.3 Kw

Heater Power

9 Kw

Auto Restart

Yes
Size and Weight

Packing Dimensions L x W x H cm

85 x 56 x 108

Weight

105 kg