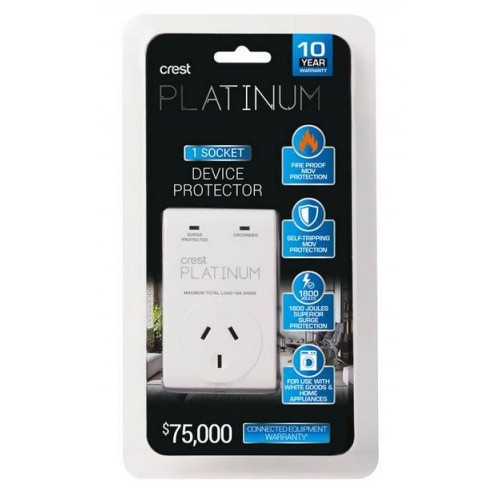 Surge Protector with NEW 10yr - $75K Warranty Fastest Protection
Plug In 240V Surge Protector by Crest - "Ultimate Power Manager" 10yr $75,000 warranty on your new dehumidifier or air purifier
* the fastest protection available.
Normal dehumidifier manufacturers warranty doesn't cover for power surges, brown outs or spikes, a quality surge protector will give you the extra protection backed by Crest $75,000 Lifetime Connected Equipment Warranty.
SAVE $5.00 when buying home & office dehumidifiers and air purifiers. >>Look for the special when you click on a dehumidifier or air purifier.
The Platinum Series is perfect for dehumidifiers, air purifiers, air conditioners, computers, printers, and everyday general household electronics. The Crest Platinum is your premiere solution for clean, safe power protection and the industry''s best in construction, ratings, and safety standards.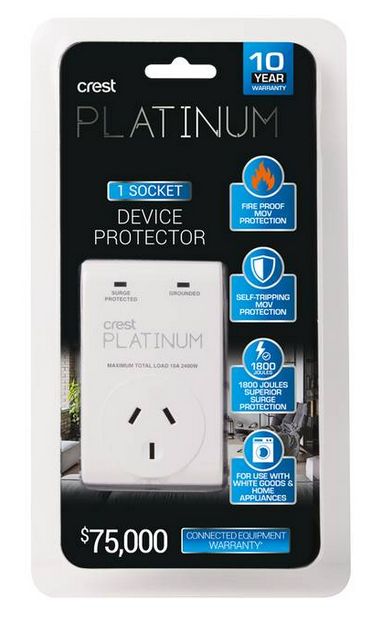 SELF tripping MOV protection
Fire Proof MOV Protection
The Platinum Series is perfect for White goods, Kitchen appliances, and Household electronics.
Total loading 10Amp 2400watt.
Protected and Earthed LED status lights.
Offering 1836 Joules, 6000 Max Spike Current , a massive 72,000 Maximum Amps Current - Provides longer-lasting surge protection with high ratings.
Less than 1 Nano second response time!
EMI/RFI Noise Filtration - 150kHz~100MHz: Electromagnetic interference/radio frequency interference causes AC line contamination that leads to computer lockups, audio/video interference and data loss.
Crest designs and engineers its products to be free of defects in assembly, material and workmanship. If a Crest Surge protector is damaged or destroyed it will be replaced with a new one, so you do not need to keep buying new surge protectors destroyed by lightning strike which was not offered by other brands! No warranty registration is required just retain proof of purchase for warranty.
Crest is so confident in this product, they also provide $75K 10yr Connected Equipment Warranty*! That means if your equipment was damaged by a power surge whilst connected to this product - Crest will pay for it!
* Note: A 3 month warranty is offered when used in a Commercial environment.
**suitable for domestic size dehumidifiers and air purifiers. Protect your new clean air equipment from power surges, brown outs and electrical storms.**
Stock:

In Stock

Model:

Crest-Surge-New-$75K

SKU:

Crest-Surge-New-$75K

Crest