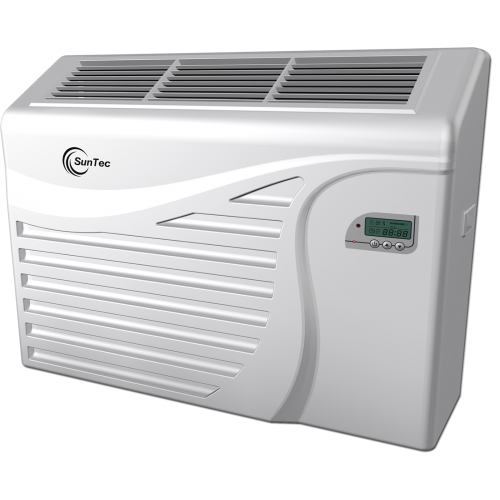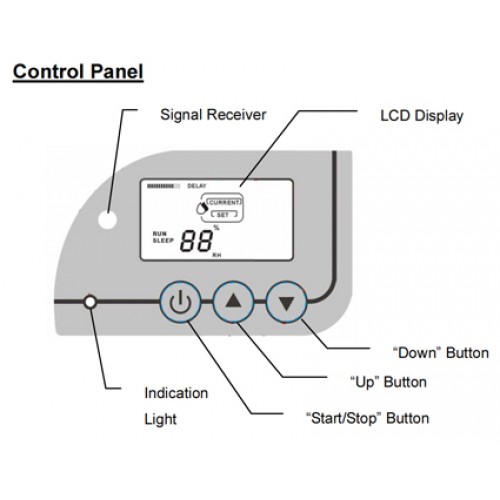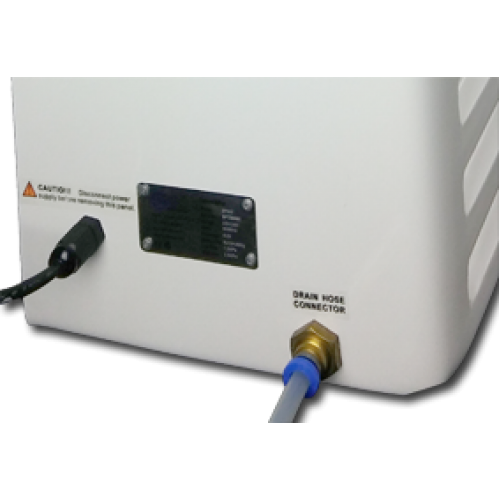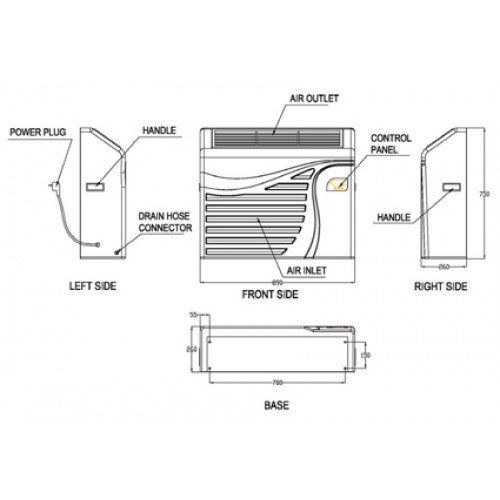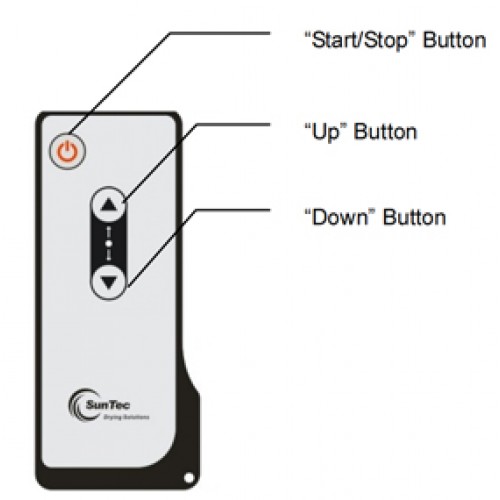 New Stocks Early 2022! Limited Stock Call 1300 353043.





Wall or floor mount Dehumidifier SP1000c (coated coils) up to 100L/day
Suntec SP1000c (coated Coils) Wall Mount Dehumidifier
Micro processor controlled humidistat allowing controlled operation down to 1ºC. Loss of power protection with Auto Re-Start. Great value commercial quality wall mount dehumidifier.

Great for document storage! Helps with mould removal and condensation prevention. IP22 Class rating

DELIVERY TAIL LIFT recommended (Not all trucks have an electric tail lift for easy delivery) To help with safe delivery of your Suntec Dehumidifier- YOU MUST ADD this in "Available Options" above when you or the receiver doesn't have a forklift to take delivery. This will avoid the driver being placed in an undeliverable situation with Heavy a 40-80kg product. Thanks DSA Management

IDEAL for museums, art galleries, holiday homes exposed to corrosive salt air, under floor areas and documents storage, archiving up to 1000m³ area (Paper storage Archival use) etc. If req'd for residential INDOOR POOLs we use calculations via Suntec Factory formulae, using Pool surface area, temp and size of room.
CALL us 1300 353043.
Reduces condensation on windows, walls and other
Preventing Mould, corrosion and rot within the building.
Coated Coils for harsh environments (ie beach homes)
The well-designed Compressor and coil capacity boost a unit's water removal rate.
Mode of functioning: Condensation principle (Heat pump technology with energy recovery.)
Hot Gas Defrost system is microprocessor controlled, allowing effective operation down to 1degC.
Simple gravity feed for water removal
Casing- Hard plastic, Splash & Rust resistant
Digital -Humidistat with automatic control.
Optional External pump available<< click for details
Protection Class IP 22
Do you want the option of an external pump, for awkward drainage installations?
Look no further.. See "Available Options" above for the Suntec condensate pump.
---
If you have your forklift for receiving please advise.
FREIGHT NOTE: When ordering this product is delivered by road transport. We require a street address (not a PO BOX) to allow somebody to sign for the package, When you check out you can change the delivery address, you can also add delivery instructions in the 'comments' box when you check out to ensure we get the order to you as fast as possible.

PDF Tech Data SP1000c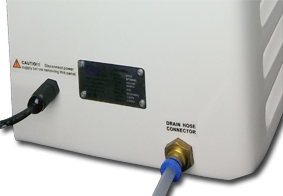 LHS view with grills at front ..see Power and Drain connections
User-friendly remote control or touch panel operation.
A well designed graphical user interface implemented into the touch pad control panel for easy operation.
Using Environmental Friendly- 410A CFC free Refrigerant
INSTALLATION (manual included with dehumidifier)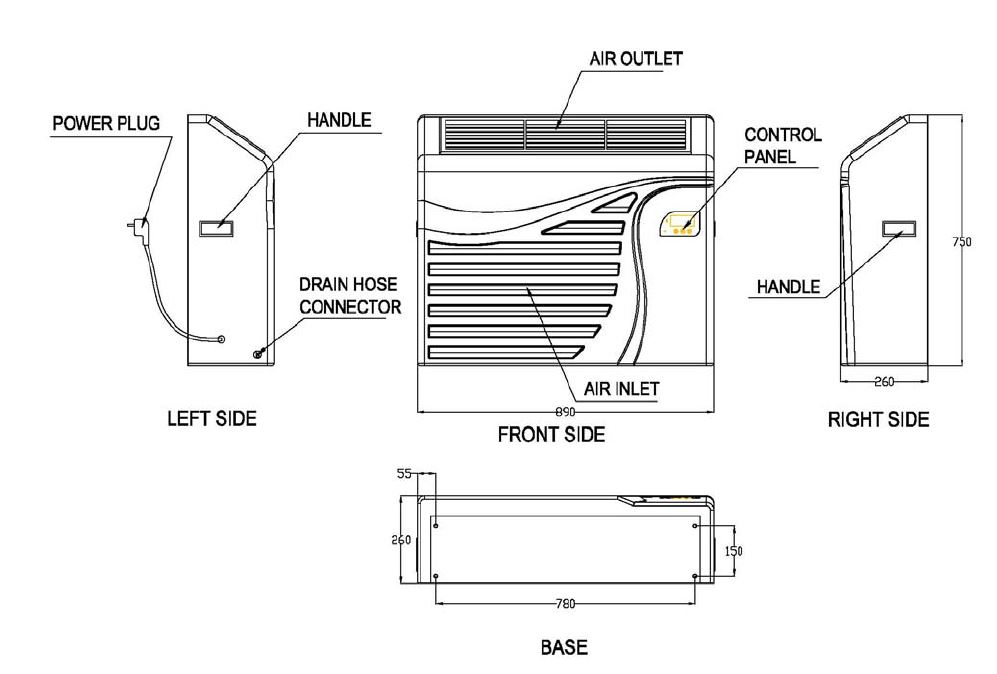 2 Way Mountable and transportable, wheels, wall mount and floor mount brackets included.
Easy connect to 240V, single phase.
Low Maintenance
Careful compressor starting extends its life.
Mounting kit included, for floor/wall/mobile
Distance between mount brackets.SP1000C: 780mm
SP1500C: 800mm;
Specifications
Area Handling
50-1000m3 archiving, (heated Pools < 70sqM depending on climate)
Water Removal L/day @30degC 80%RH or @26degC 60%RH
(30C/80%RH) 100 L/Day (20C/60%RH) 45 L/Day| (10C/70%RH) 20 L/Day
Air Flow
800m3 /hr
Auto Features
Auto-restart | Digital touch panel
Dehumidifier Noise dB(A)
48 dB @ 1 metre
Temp Range
1°C - 40 °C
Filters
Removable and Washable
Humidity Range
25-80%RH +/- 5%
Power Supply & Use
240V Single |1400W (7.5A) 10Amp Plug|Inc 3m cable w plug
Dehumidifier Run Cost (av 10 Hrs/day)
Qld rates $4.12
Refrigerant Type
(Enviro Friendly CFC Free) 410A
Housing & Build
Removable and Washable
Pump Out
No pump- gravity |Inc 3m drain hose
Weight
62kg tail lift
Size LxWxH
89x26x75
Warranty
2 yrs parts/Compressor|1 yr labour| 3yr Body
Stock:

In Stock

Model:

Suntec SP-1000C

SKU:

Suntec SP-1000C

Suntec