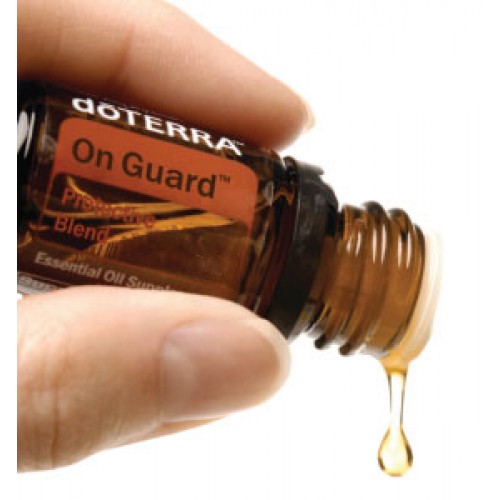 OnGuard® dōTERRA® CPTG Protective Essential Oil Blend 15ml
High potency OnGuard®- Protective Essential Oil Blend 15ml
Diffuse in rooms to protect and rid the area of bacteria, viruses, mould, and fungi.
TIP: Also ideal in HVAC systems 2-3 drops. Use in Humidifiers or home diffusers.
Ideal for diffusing in accommodation rooms, great for medical and therapeutic massage receptions
for control and suppression of mould spores* and elimination of airborne bacteria and viruses from past guests or patients.
* Mould spores and outbreaks can also be prevented by regularly using a dehumidifier.
Note: Onguard, purify and breathe can also be placed on the air filter of dehumidifier
A simple 7 day test
All Petri dishes were subjected to the same environment in a home, 4 were sprayed with OnGuard® and 4 were left untreated. The results here show clearly top row Petri dishes sprayed with OnGuard blended formula suppresses mould growth. Enabling users to create their own mould free environment using this amazing product.
Information sourced from the ScepticalHomeopath.com
OnGuard® can be diffused or mixed as a spray and safe to use orally or on surfaces.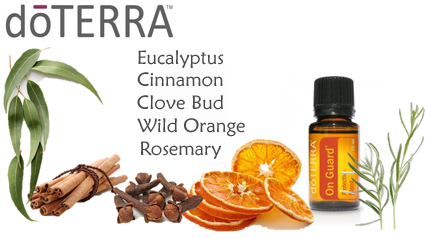 A Unique blend of Wild orange essential oil, combined with clove, cinnamon, eucalyptus and rosemary offer a fragrant, natural and effective alternative for your immune support.
On Guard is formulated to support healthy immune function. This strong and effective essential oil blend can be used to reduce the debilitating effects of colds and flu as well as protect your environment from air-born viruses and bacteria. On Guard, with its unique aroma, is one of our most versatile blends. It is also safe to use on countertops, as a non-toxic way to cleanse surfaces, or to purify the atmosphere by diffusing. On Guard is superb for eliminating and controlling pathogens due to the potency of its constituents. For aromatic, topical, or dietary use.
The oils in this blend have been lab-tested for their strong abilities to kill harmful bacteria, mould, and viruses. You may choose to diffuse On Guard into the air and clean, purify or cleanse your household.
Approx 255 drops/15ml bottles
For use in a diffuser use approx 200ml water with 5 drops OnGuard®
Single oils contained in this blend are:
Wild Orange: is antibacterial, antifungal, antidepressant, and antiseptic. It is a powerful disinfectant and very effective against colds and flu.
Clove Bud: is antibacterial, . It may influence healing and help create a feeling of protection and courage.
Cinnamon Bark: has very specific purposes: a) it is a powerful purifier, b) it is a powerful oxygenator, and c) it enhances the action and the activity of other oils. It may have a stimulating and toning effect on the whole body and particularly on the circulatory system. It is antibacterial, antifungal, anti-infectious, anti-inflammatory, antimicrobial, antiparasitic, antiseptic, antispasmodic, antiviral, astringent, immune stimulant, sexual stimulant, and warming.
Eucalyptus Radiata: may have a profound antiviral effect upon the respiratory system. It also has strong antibacterial, anticatarrhal, and antiseptic properties.
Rosemary: may help balance heart function, energize the solar plexus, and reduce mental fatigue. It may improve circulation and help stimulate the nerves. It is antiseptic and anti-infectious.
Body Systems Affected: The oils in this blend may help it be effective for dealing with various problems related to the Immune System.
Aromatic Influence: Diffuse this blend of oils periodically for 20-25 minutes at a time to help protect the body against the onset of flu, colds, and viruses.
Application: Massage the throat, stomach, intestines, and bottoms of feet. Dilute one drop in 15 drops of fractionated coconut oil: massage the thymus to stimulate the immune system, and massage under the arms to stimulate the lymphatic system. It is best applied to the bottoms of the feet, as it may be caustic to the skin. Dilute with fractionated coconut oil when used on sensitive/young skin.
Safety: Repeated use can result in extreme contact sensitization. Can cause extreme skin irritation. Use with caution during pregnancy.
Stock:

In Stock

Model:

Essential_Oil_On Guard

SKU:

Essential_Oil_On Guard