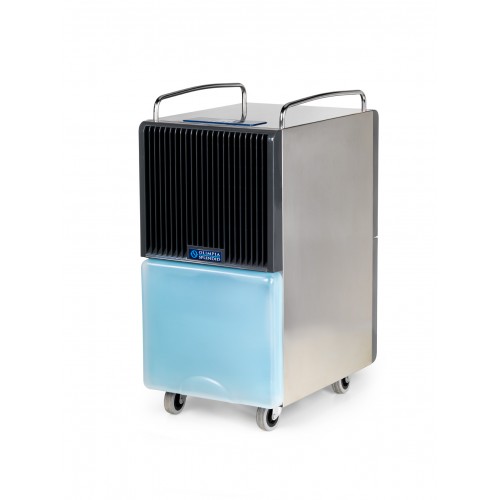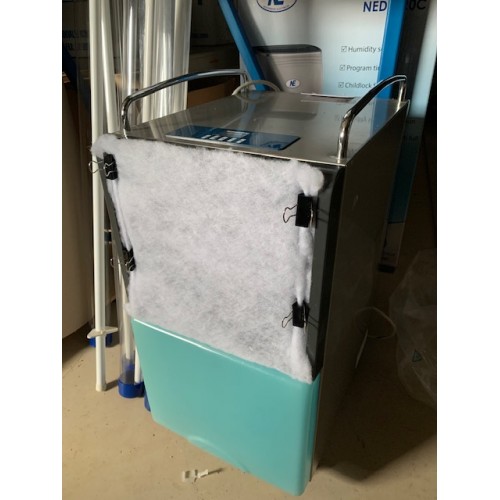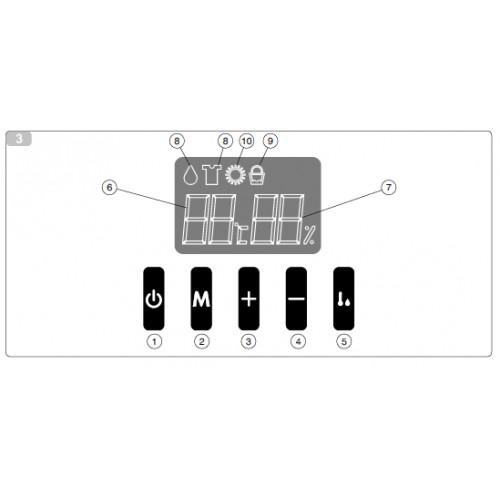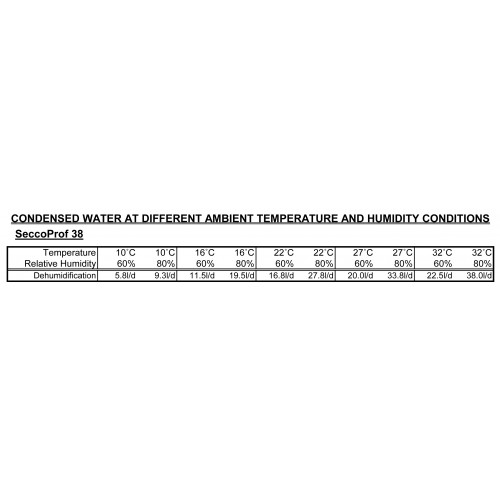 38L/day SeccoProf EL- Commercial Dehumidifier
Newly released SeccoProf 38EL -The bigger brother to our popular 28L EL SeccoProf model
Italian Design, professional stainless steel body, portable light commercial dehumidifier.Helps with Mould Removal
Key Features at a glance
Now with electronic digital control. 30-90%RH selectable with continuous or Laundry mode.
Can run at very low temperatures as low as2degC!! Using the latest electronic logic and hot gas injection.
Large moisture removal capacity of 38L/day @32degC 80%RH.
Now with "SuperDry" function which activates for continuous faster dehumidification.
Auto Restart Function, when power returns after a blackout the unit remembers the last setting.
Features built-in Temp/Humidity meter for measuring actual ambient levels.
Suitable for: larger volume open plan living rooms or storerooms, Laboratories, commercial offices, carpet drying, art galleries, museums, storage containers All homes ♦ apartments ♦ laundry & drying rooms ♦ garages ♦ Larger Professional recording studios - can also be at risk from corrosion due to high levels of condensation or humidity ♦ Mixing consoles, computers etc, are just some of the items that can be affected. A room model dehumidifier is the most effective way to prevent problems occurring.
A popular Italian Design European Model * with Large Capacity 38L/day moisture removal. Covers 40-330 m3, or max 10m x 11m room

Main Use: Home, Carpet flood drying, Galleries and Storerooms etc
*Preferred by Government Departments, Dept. of Defence, ADFA, Aust. Federal Police, National Art Galleries, Museums, Hospitals, Hire Companies, Flood Restoration Businesses, Nth.Qld. Rainforest Resorts and Accommodation etc.

NOTE: When ordering, this product is delivered by road transport. We require a street address (not a PO BOX) to allow somebody to sign for the package When you check out you can change the delivery address. You can also add delivery instructions in the 'comments' box when you check out to ensure we get the order to you as fast as possible.


European Style and Quality for Robust professional use.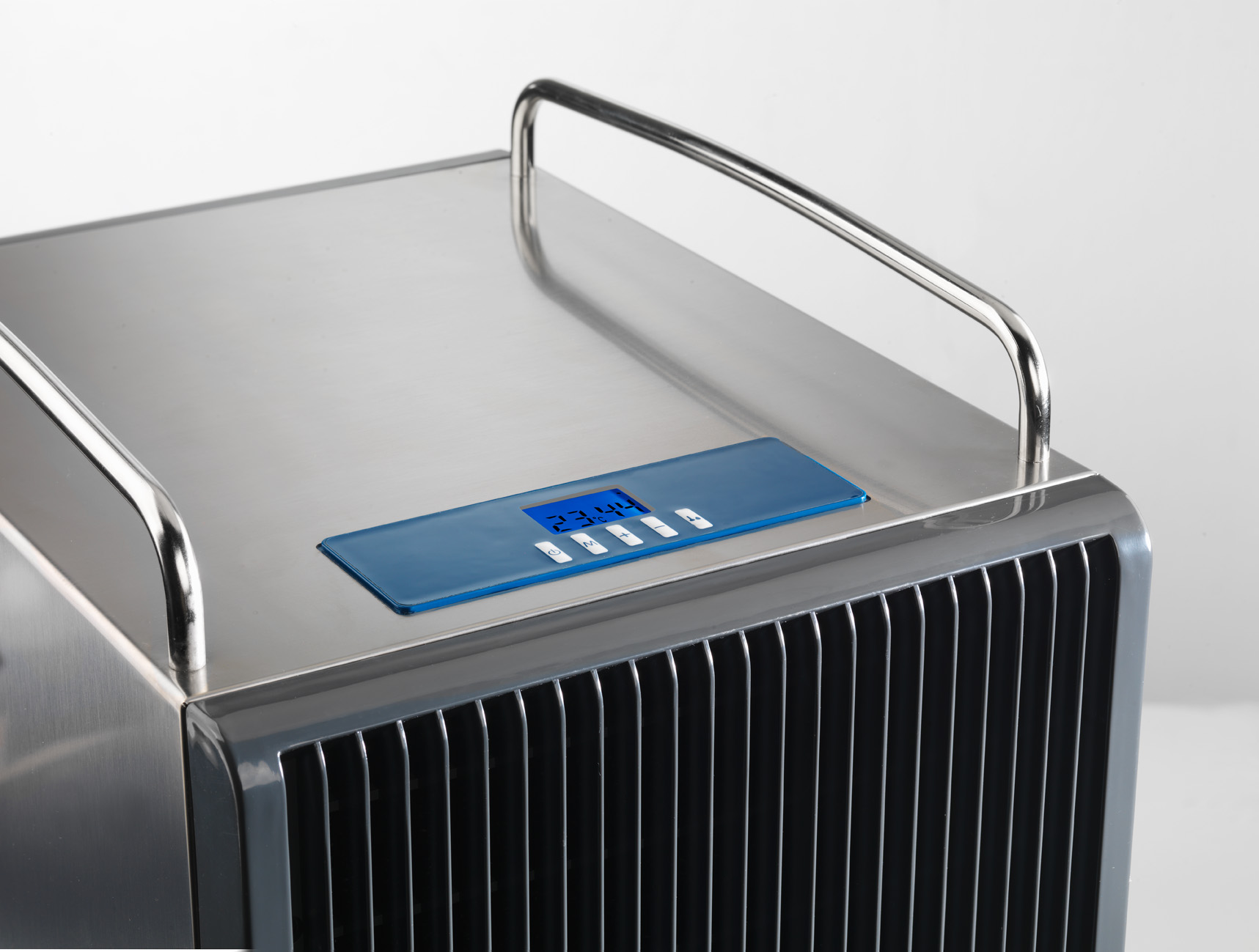 IDEAL FOR: Mould and condensation prevention for larger family rooms, office areas, open plan living rooms, carpet drying, community buildings, libraries, minor flood restoration for water damaged rooms, art galleries, museums, hospitals, open plan rooms, commercial size areas, drying rooms, storage room/containers, small to medium indoor pools*. This unit produces a large volume of air movement up to 350cuM/hr nearly double the airflow compared with domestic home models- Great for drying!
NOTE: Please inquire for sending to: WA, NT, NQld. Due to the larger heavier size of a dehumidifier, a pallet may be required to protect unit during transit on long distances, we will advise extra cost
Other features
Stainless steel body
Italian design... popular model in Europe
Treats high amount of air volume for drying
Simple variable humidity control
Large 10L tank with auto-off when full.
Continuous drain feature** see below
Portable on casters just plug into 240V
Low power use approx.1.35 cents /day (@ average 10hrs/day)
Save on the accessories listed below.** They may be useful to use in conjunction with your dehumidifier.
Enables continuous drain to efficiently remove water without having to empty the tank. Can be used when away from home, in boats, holiday homes storage areas etc.
Warranties on dehumidifiers do not cover against damage caused by surges of power faults from storms or blackouts. Prolongs the life of the dehumidifier. Our Crest surge protectors include an Aust. $50,000 10year connected equipment warranty. Note: Always plug dehumidifiers into a surge protector
Helps to determine the humidity of the room and judge whether the dehumidifier is needed. Our range of dehumidifiers, 16 litres and above have inbuilt meters however the portable meters can be used from room to room to check on levels without having to move the dehumidifier.
Help PROTECT your health from viral dust and mould spores and PROLONGS Life of your new dehumidifier.
Benefits and features;
Double the efficiency
Get maximum water removal performance
A 3M HAF filter keeps the coils cleaner
Maximum airflow to handle more volume

A 3M HAF filter includes an antimicrobial agent that prevents mould from growing on its surface
G3 Pre-Filters Why?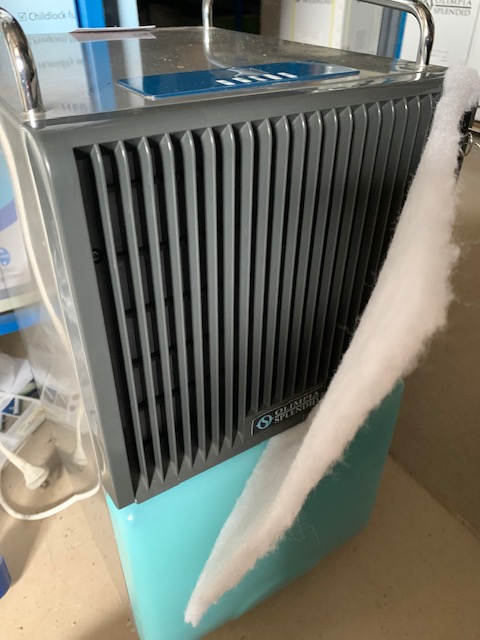 BY REMOVING DUST AND POWDER PARTICLES PRIOR TO ENTERING THE MAIN FILTER AND COOLING COILS OF THE DEHUMIDIFIER. HELPS PROLONG THE LIFE OF THE DEHUMIDIFIER COILS AND INTERNAL FILTER,
Low Cost, ENABLING THE DEHUMIDIFIER TO OPERATE LONGER WITHOUT A MAIN FILTER AND COIL CLEAN. KEEPS THE DEHUMIDIFIER OPERATING MORE EFFICIENTLY LONG TERM.
**These accessories can be included in your dehumidifier order by choosing the appropriate product in a menu on the respective dehumidifier page
*Warranty does not cover misuse, power surge and wear on the product, suggest the use of a surge protector as protection against storm and a high surge of power which may damage the unit if unprotected.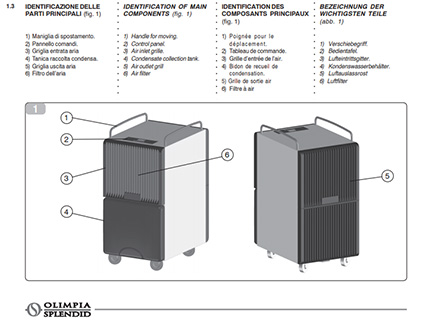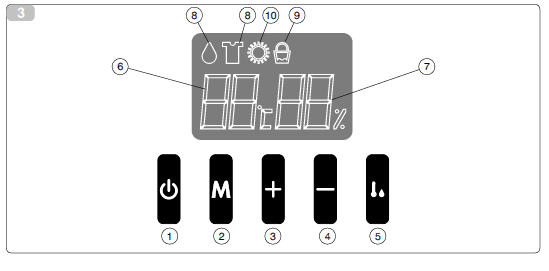 FOR PREVENTION OF - mould & condensation, corrosion and musty smells!
*Warranty does not cover misuse, power surge and wear on the product, suggest the use of a surge protector as protection against storm an a high surge of power which may damage the unit if unprotected.
**NOTE: OPERATION WITH CONTINUOUS DISCHARGE (details described in Manual that comes with machine)
If you need to run the dehumidifier for a long time without the possibility of periodically emptying the tank, we recommend using the continuous discharge.
To operate the dehumidifier with continuous discharge, carry out the following operations:
• Remove the tray from the appliance.
• Connect the rubber hose to the connection of the condensation collection tray (in the upper part of the tank compartment fig. 4).
• Secure the hose to the connection with the metal clamp.
• ON Digital display Simultaneously press the plus "+" (3)key and minus "-" (4) key for three seconds, with the machine in function.
The activation of this function is indicated by the flashing "tank" symbol (I).
WARNING:
The continuous discharge function is cancelled when reinserting the empty tank.

Specifications
Area Handling
40-330m3
Water Removal L/day @30degC 80%RH or @26degC 60%RH
(32C/80%RH) 38Litres/day |27°C/65%RH20L/day
Air Flow
350m3/hr
Auto Features
Auto-off when tank full-YES |Auto Restart-YES
Dehumidifier Noise dB(A)
49 dB @ 1 metre
Temp Range
2 - 35 Celsius
Humidity Range
Digital 30-90%RH in 5% increments
Power Supply & Use
220V-240V | 700W 3.6A
Dehumidifier Run Cost (av 10 Hrs/day)
10hrs Avg.| Qld rates $1.72
Refrigerant Type
R134A .33kg
Housing & Build
Housing-Stainless Steel |Wheels-Heavy Duty Rubber
Pump Out
NO - but external pump available
Tank Size
Large 10 Litre
Weight
27.2 Kg unpacked 29kg with packaging
Size LxWxH
435x310x640
Warranty
2 years RTB ...warranty sheet and Manual supplied
Stock:

In Stock

Model:

Secco38L_EL

SKU:

Secco38L_EL

OlimpiaSplendid