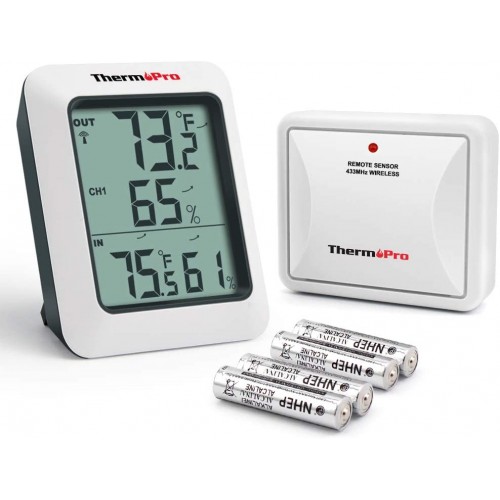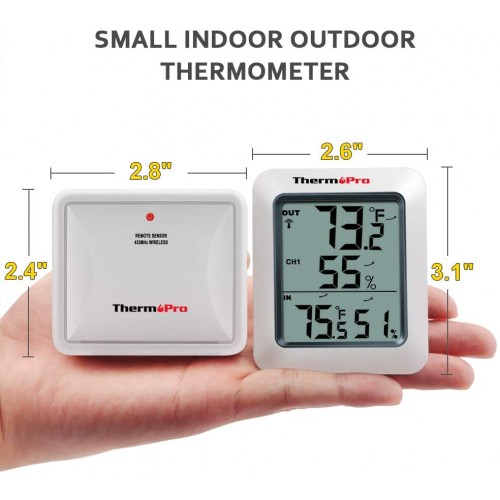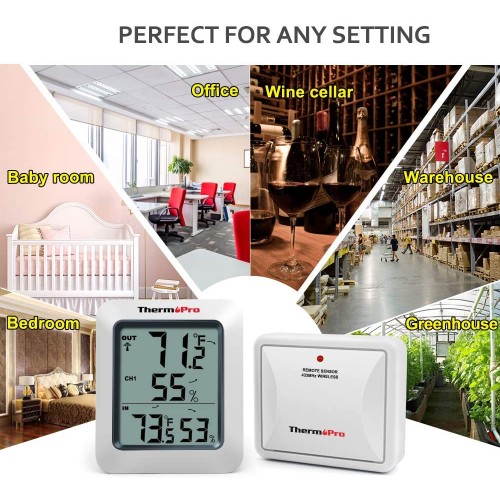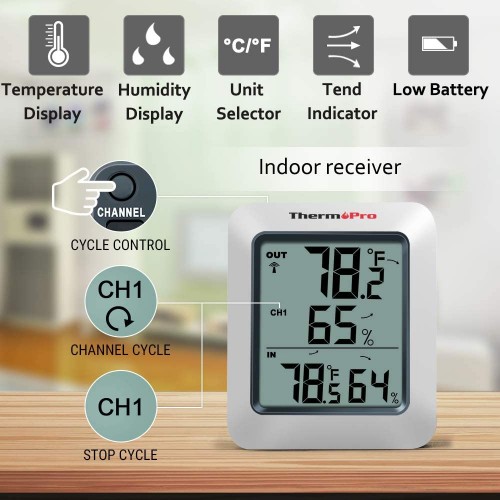 Meter Thermo Pro + Sensor Wireless - Temperature/Humidity
The ThermoPro + sensor Wireless hygrometer-Small Compact Size
Allows you to check the temperature and humidity in up to 3 different remote locations (with extra sensors) This unit has a sleek design with a jumbo display unit to show temperature and humidity readings precisely. The indoor-outdoor temperature monitor has a handy flip-out stand for a desktop or hung on a wall. It comes with one remote sensor, which has an operating range of up to 30 metres (line of sight). Switchable °C/°F.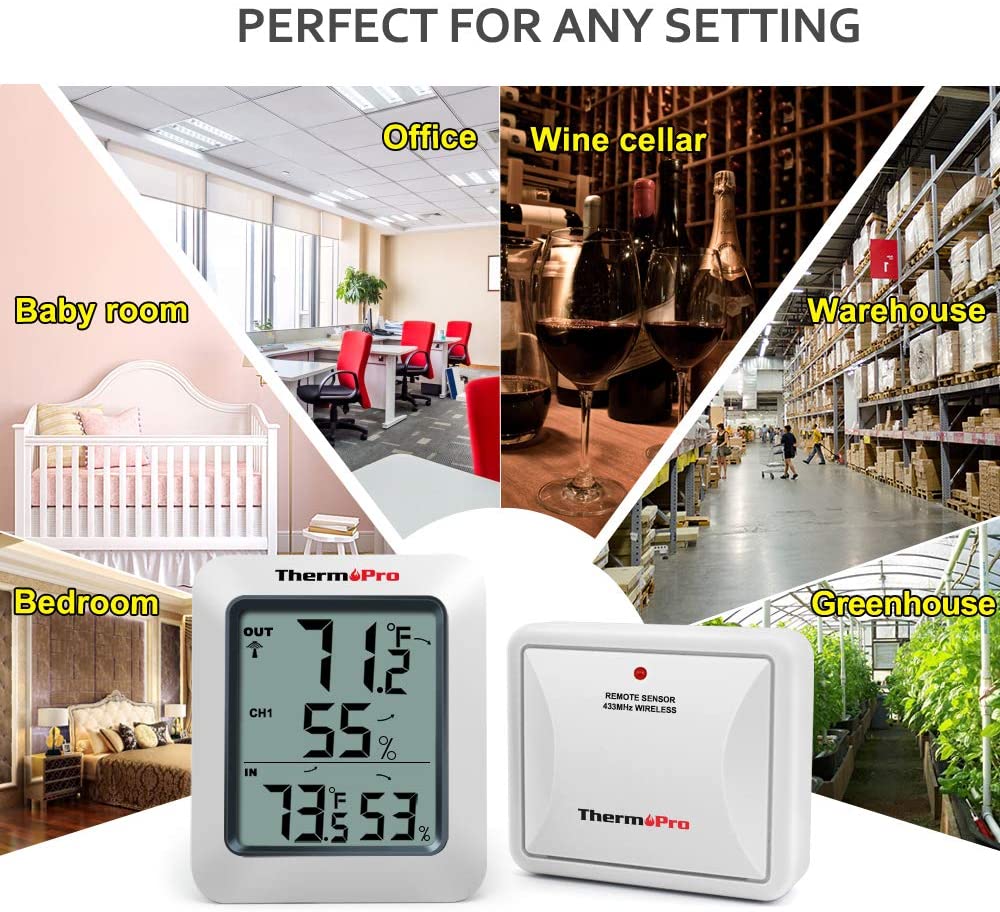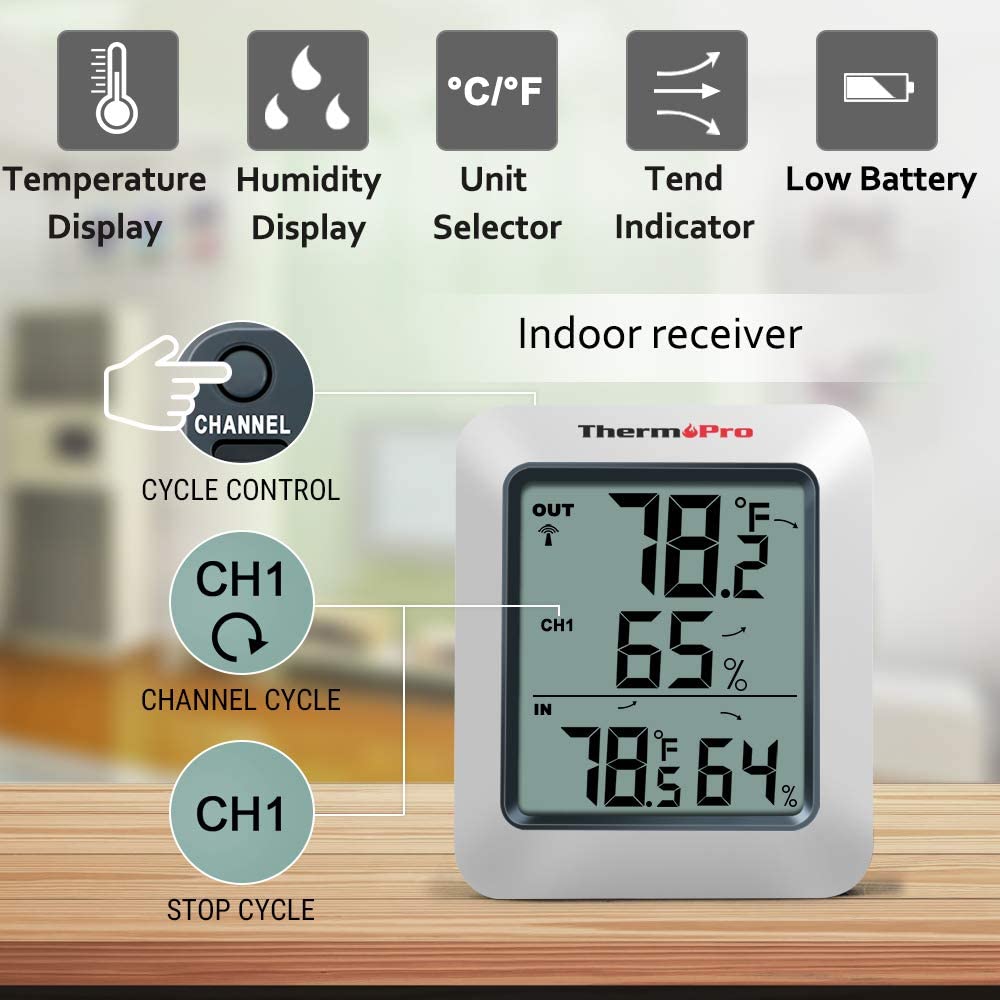 Suitable for measuring temperature and humidity inside and outside with sensor included see below:
Inside roof spaces for insulation installer
Monitoring humidity levels for dehumidifiers
Underfloor and in A/C ducts for humidity and moisture monitoring
Cool room monitoring can be measured using the included sensor.
Ski Lodges indoor/outdoor temp monitoring for guests
Reptile enclosure Hum/Temp monitoring
Plant Nurseries etc (not wet areas)
Wireless Indoor/Outdoor ThermoPro-Hygrometer:
Product description
Features:
1.The bold, easy-to-read LCD screen displays the current indoor outdoor temperature and humidity percentages.
2. With a temperature and humidity percentages trend indicator arrow and daily high and low information.
3.Display stands upright for tabletop use or is wall-mountable.
4. Includes all-time / 24 hours high and low records for temperature and humidity.
5. You can simply reset the temperature and humidity.
NOTE - To Synchronize Remote Sensors up to 3
1.Position the remote sensor near the base station
2.Install batteries into transmitter and receiver
3.The RF signal icon (located on the upper left of the base station display) will flash
4.Wait for a moment or press TX button in the outdoor transmitter
5.The remote sensor temperature/humidity will appear Each time the batteries (either base station or remote sensor) are replaced or base station/remote sensor lost connection,
make sure to follow the synchronization process to pair and re-connect the base station and remote senor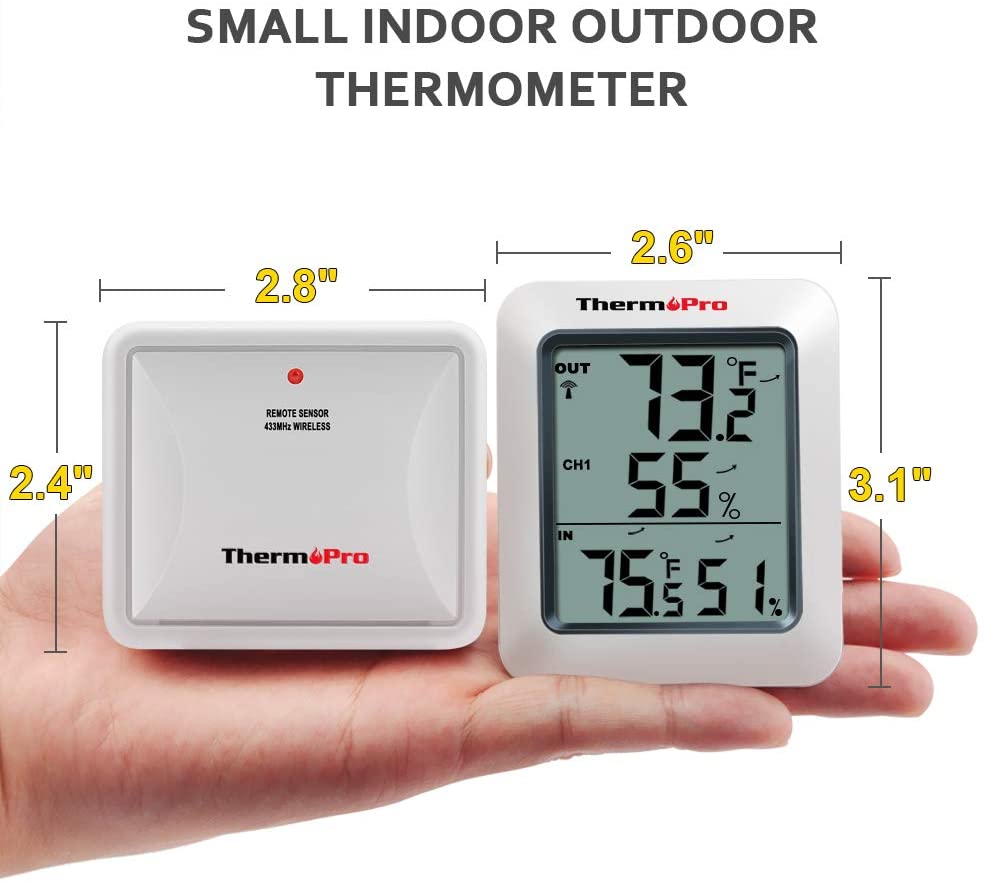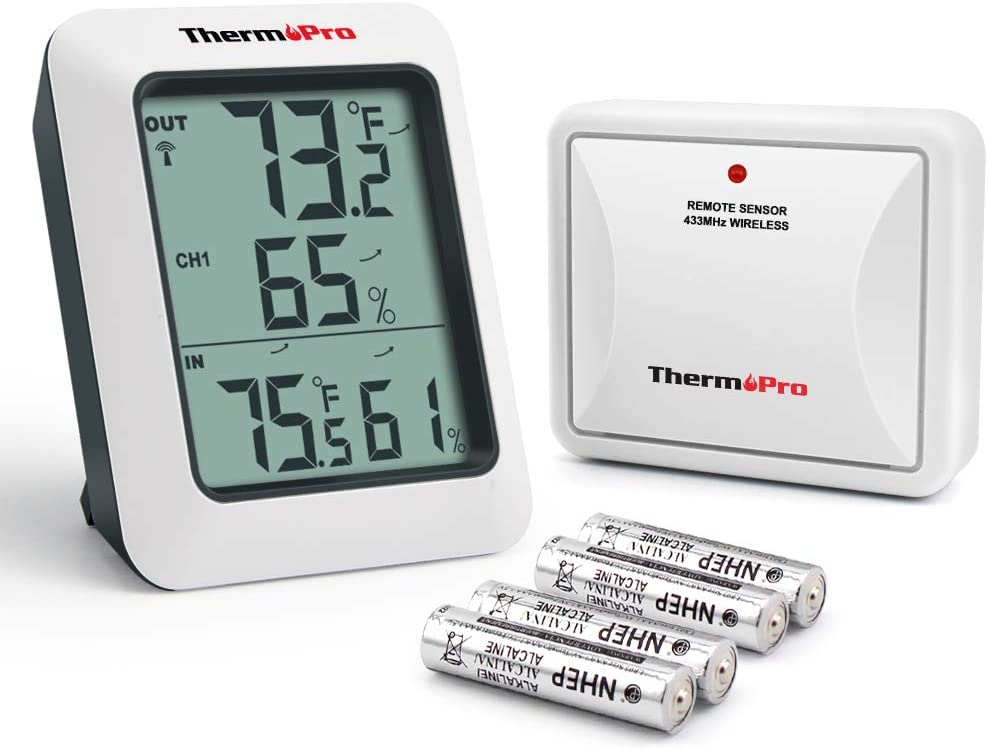 Specifications
1. 433 Mhz transmission frequency.
2. Transmission range up to 200 ft. (range maybe shorter based on interference present).
3. Indoor Temperature range: -4°F~158°F (-20°C~70°C).
4. Outdoor Temperature range: -58°F~158°F (-50°C~70°C).
5. Humidity range: 10% ~ 99%.
6. Temperature tolerance: +/- 2.0°F (+/- 1.1°C).
7. Humidity tolerance: ±2% from 30% to 80%; ±3% below 30% and above 80%
iTronics TP60 digital indoor outdoor hygrometer
Size
Base station unit (Receiver):2.6"(Length) x 3.1"(Height) x 1" (Width)
Remote sensor (Transmitter):2.4"(Length) x 2.5"(Height) x 0.78" (Width)
Package Contents:
1 x base station unit (Receiver).
1 x remote sensor (Transmitter). can take up to 3 sensors
4 x AAA size batteries (included).
1 x screwdriver (included).
Important information
Legal Disclaimer:
The remote unit should NOT be placed in direct sunlight.
Otherwise,sunlight will heat up the remote sensor which leads to higher temperature reading than the air temperature which is supposed to be measured.
The remote sensor must be always placed upwards so that rain won't get inside the sensor through the vent holes on the bottom of the senor which functions to let the remote sensor detect the environmental temperature and humidity more precisely and quickly.
Stock:

In Stock

Model:

Meter ThermoPro Wireless + sensor

Thermo-Pro