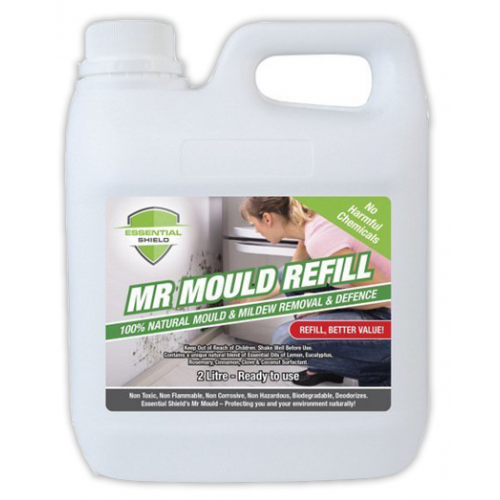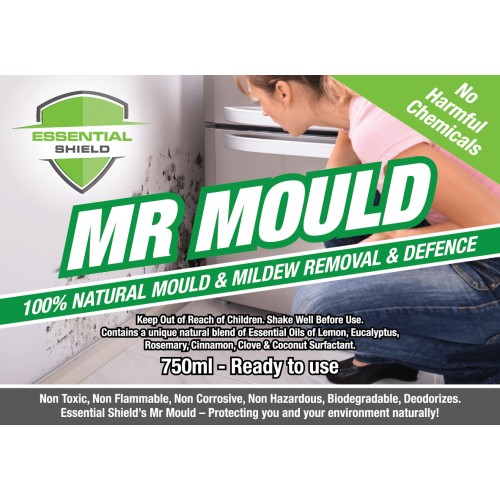 New! Mr Mould 2L Essential Oil Cleaner Refill "Great Smell"
2 litre Bottle of Mr Mould Essential Oil Cleaner Refill
Our best smelling mould killer spray yet! Customers rave about this well formulated product.! Now in 2L size.
Ideal for the heavy user, around the home as well as outdoor plastic vinyl furniture.
Kills & Removes Mould Naturally! Retards the return of mould!
Water based & Powered by 5 Essential Oils & Coconut – No Toxic Chemicals!
A blend of five therapeutic grade essential oils Lemon, Eucalyptus, Cinnamon, Rosemary & Clove.

REMOVE MOULD NATURALLY LEAVING A WONDERFUL FRESH SMELL!
A great option to refill your 750ml Spray Bottle! Mr Mould cleans and treats surfaces impacted by mould and mildew.

Mr Mould leaves a micro fine treatment On the surface that assists in retarding the return of mould and mildew naturally. Ideal for use on almost any surface.

Does not contain these chemicals:
Phosphates, Bleaches / Chlorine, Petrochemicals, Sodium, Laureth/Lauryl Sulphate, EDTA, DEA,
Synthetic Perfumes, Dyes or Preservatives.
Directions for Use:
1. Do not swallow. Keep out of reach of children.
2. Mr Mould can be used on almost any surface. Always check compatibility of product with surface prior to cleaning.
3. Wear gloves, face mask and eye protection when removing / treating mould.
4. Apply product to a water moist microfiber cloth or mop head and clean surfaces.
5. Avoiding product runs & or spillage on foot traffic areas (may be very slippery).
6. Do not allow product to dry on the surface during the cleaning process.
7. Always store product out of sunlight.
First Aid:
For advice contact a Doctor or call 13 11 26. Avoid contact with eyes. Swallowed - Do not induce
vomiting, give glass of water. Skin – Wash skin with water. Eyes – Wash eyes with water for 15
minutes.
Made in Australia from local and imported components.

Mould and Health Risks


Mould can impact on a broad range of health issues, some of the main ones are:

• Respiratory disorders such as asthma, sinus congestion / infections

• Constant fatigue, tiredness

• Unexplained ongoing cold and flu symptoms

• Eye irritations

• Skin Conditions / Irritations
Stock:

In Stock

Model:

Mr-Mould-2L-Refill

SKU:

Mr-Mould-2L-Refill