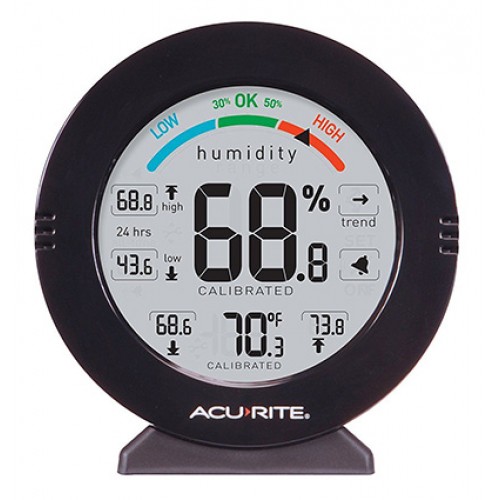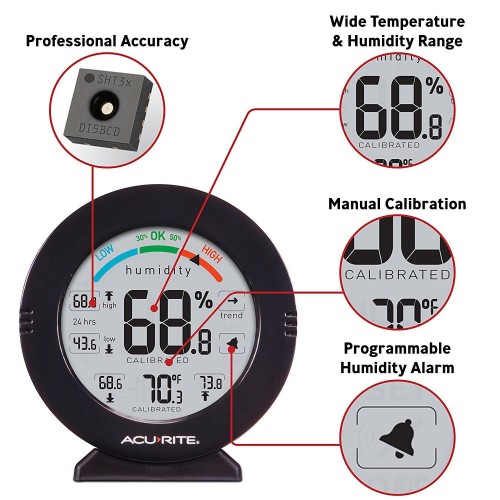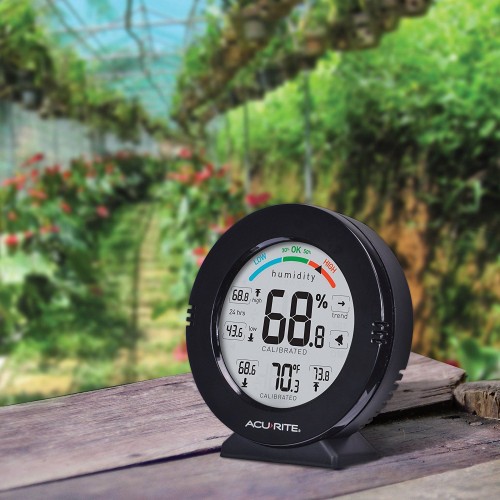 AcuRite Round Temp/Hum Meter+ Alert and Calibration
Acurite Humidity/Temp Meter with Humidity Alert + Calibration in one for Home, Business or Storage use.
Our best model yet! Very versatile. Sells for over $100 on other AU sites , we have kept our price down for this popular "All Rounder"meter.
Measures Humidity & Temp, customisable Humidity hi/low alarm, warns with alarm when the preset Humidity exceeds set limits either HIGH or LOW. Also shows handy visual Low/OK/High at top of the display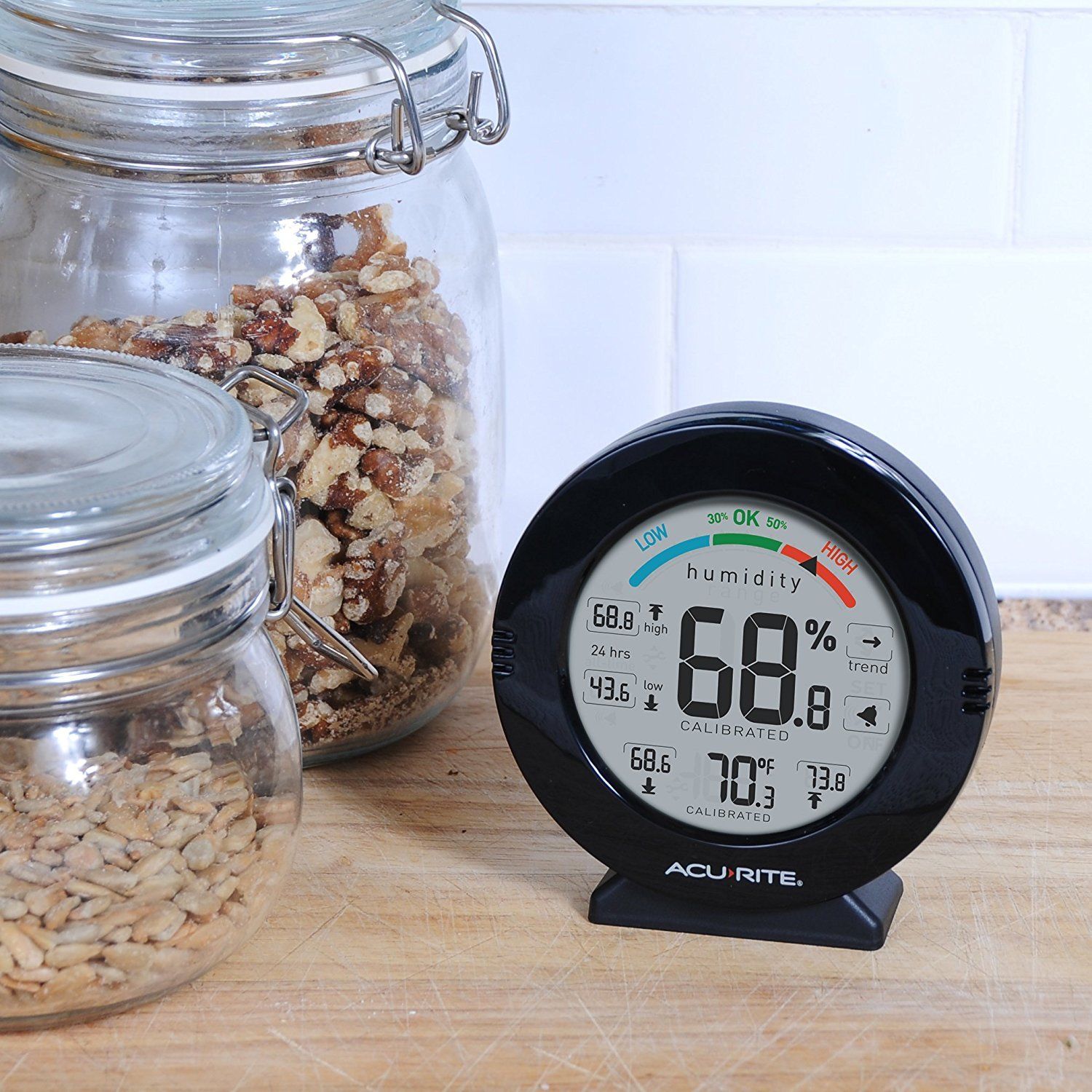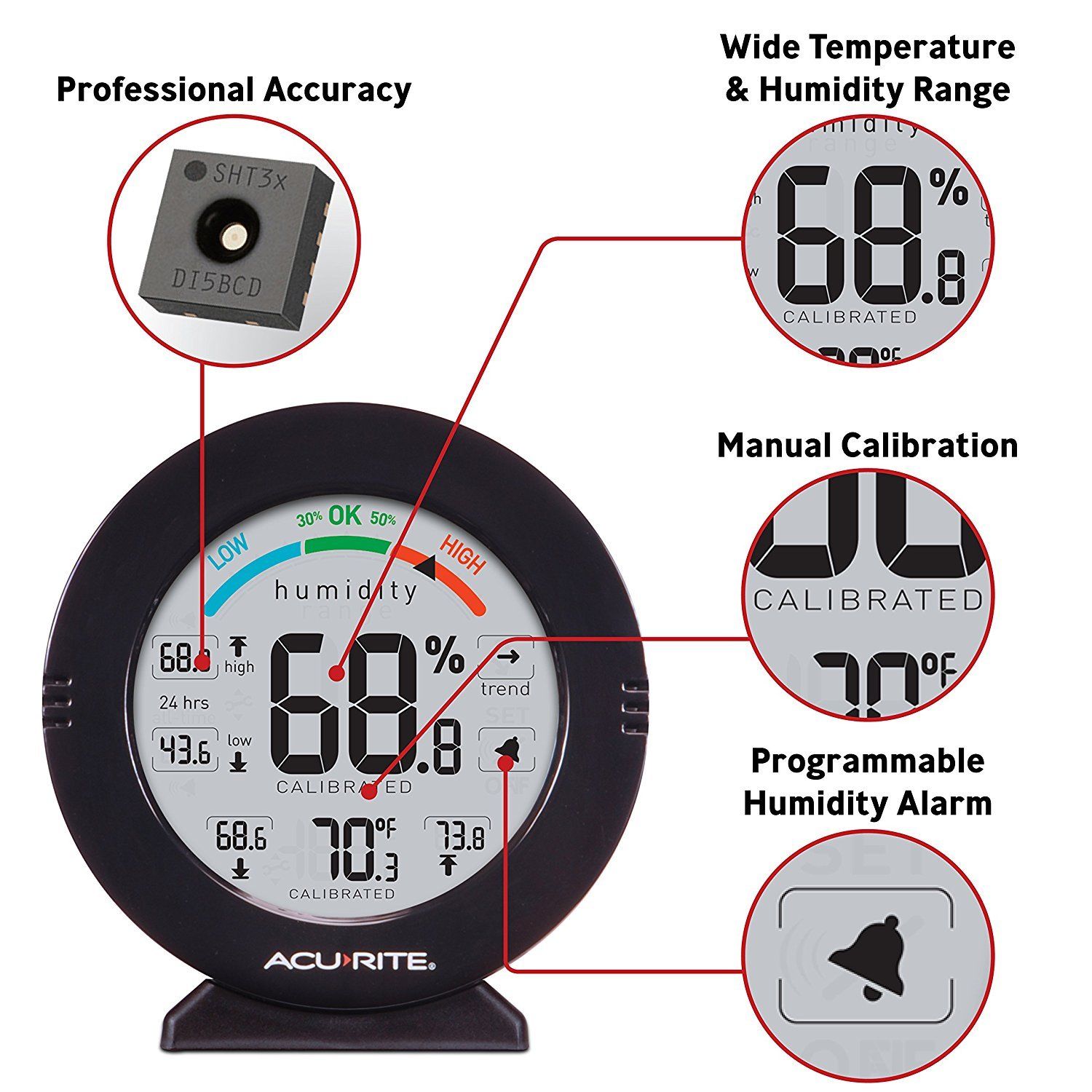 EASY TO READ: Measures indoor temperature and humidity from -4 to 158°F (-20 to 70°C) and 1-99% RH with large, bold numbers
PROFESSIONAL ACCURACY: Provides accuracy of +/- 0.5°F, +/- 2% RH with manual calibration option for data you can trust
UP-TO-DATE INFORMATION: Measures conditions every 10 seconds to quickly identify changes in temperature and humidity, as well as displays high/low records for the past 24 hours and for all-time
ALARM NOTIFICATIONS: Custom, programmable high and low humidity alarms to let you know when humidity levels are outside of your desired ranges, and a colourful humidity level indicator (LOW / OK / HIGH) at the top of the display provides at-a-glance information so you know whether humidity levels are within recommended ranges

Professional Accuracy
The monitor's thermometer and humidity sensors offer professional-level accuracy. Data measurements are updated every 10 seconds and shown on the easy-to-read digital display.

Calibration Feature
The AcuRite Temperature and Humidity Monitor can be easily calibrated to improve the accuracy of data reading. The user manual includes step-by-step instructions on how to calibrate the sensor.

Humidity Alarm
The sensor includes high/low humidity alarms that can be programmed and customized based on your needs. The alarm features flashing and audible alerts when conditions exceed the desired ranges.

Humidity Level Indicator
The humidity level icon at the top of the display clearly conveys a low (blue), high (red) or ideal (green) humidity level for a healthy home environment, based on relative humidity (RH).

Monitor Indoor Room Conditions
The AcuRite Pro Accuracy Indoor Temperature and Humidity Monitor with Alarms provide dependable data that can help you maintain a comfortable living space to preserve your home's interior, possessions, and maintain a healthy environment indoors.With the alarm feature, you will be notified if humidity levels fall outside of your ideal range so you can be aware of your indoor conditions without needing to take the time to frequently check the humidity reading.

The temperature and humidity monitor is compact, easy to use, and offers a variety of mounting options to suit your preferences and needs: tabletop, wall-mountable, and magnetic back mount. It's a must-have for any room.



Specifications
Humidity Alarm
Model
Acurite Meter - Alarm + Calibration
Humidity Range
1~95%
Accuracy
Humidity ±2%RH Temp ±0.5°
Temperature Range
-20°C ~ 70°C -4˚F ~ 158˚F
Humidity Alarm
Yes + Custom Program also Level indicator LOW/OK/HIGH
Temp Alarm
No
Sampling rate
Approximately 1 sample per 10 Seconds
Dew Point
N/A
Operating Temp
N/A
Storage Temperature
N/A
Battery
1.5V AAA Battery 2pcs (Included)
Size and Weight
Size
100mm x 23mm x 100mm
Weight
145 Grams
Suitable for: Checking humidity levels around the home or workplace, when Humidity alarm is preset for an upper or lower level, the smart unit alerts you when it reaches these levels.
IDEAL FOR: Home users, museums, galleries, cool rooms, seed storage, nurseries. Great for Domestic-Industrial-Agricultural use.etc
Stock:

In Stock

Model:

Meter3_Acurite Round

SKU:

Meter3_Acurite Round
Acurite