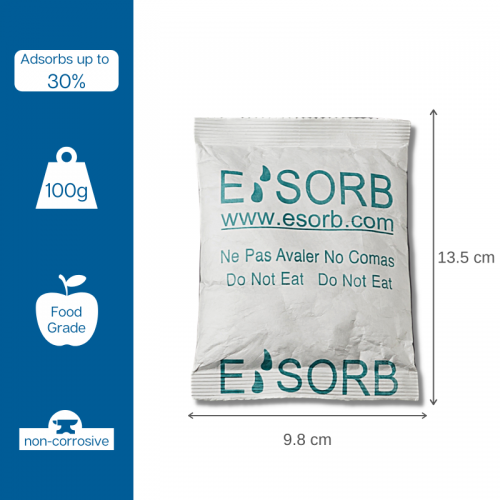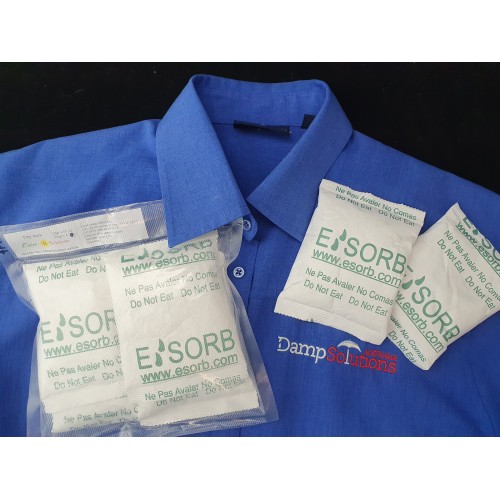 Dry Packs Eco-Sorb 100g xQty4
Dry packs Eco-Sorb 100g xQty4
Ecosorb Silica Gel packs > Dry pack 100 gr comes in 4 packs for the economy of buying.
Silica Gel 1x 100g Sachet is ideal for travel or camera bag, med storage tool box etc
Adsorbing Capacity: up to 30% Used in the following applications:
electronic equipment cases
Non Toxic Food Grade
camera & Lens bags
Sealed Picture Frames
tools
computers
musical instruments
preservation packaging
and all humidity sensitive products
What is Silica Gel and how does it work?
Silica Gel is a glass-like, porous structure of silicon dioxide (SiO2). It adsorbs up to 30% of its own weight. And you read it correctly, that's adsorb and not absorb. Silica Gel adsorbs moisture with the water molecules adhering to the surface of the Silica Gel granule. Silica Gel is covered in millions of pores that retain this moisture. Pore opening size ranges a magnitude up and down from a billionth of a metre (nanometre). The pores create a huge surface area, which will bind water through surface adsorption and capillary action.
Silica Gel comes packaged in Tyvek bags which are made from high density polyethylene fibres, making them extremely tear-resistant. In addition, Tyvek is lightweight, flexible, smooth, low-linting, and is resistant to water, chemical abrasion, and ageing. The Pro-Ex Silica Gel range is food grade.
Suitability
Under optimal conditions Silica Gel will adsorb up to 30% of its own weight.
The adsorption ability falls at temperatures above 30-40°C. Although some moisture can be adsorbed at temperatures up to 80°C, the risk of re-evaporation of already adsorbed moisture make Silica Gel unsuitable for use in an environment where temperatures of above 40°C may occur even temporarily.
Advantages of Silica Gel
if stored correctly can have an almost indefinite shelf life non-toxic and non-flammable
adsorbs up to 30% of its weight in moisture
odourless
non-corrosive
can be reactivated and reused if required
NOTE: Silica Gel desiccants are NOT suitable as a shipping desiccant but can be used in packages where the risk of high temperatures is small.
Silica Gel Applications
Prevent mould – leather goods, photo albums, certificates, photo frames
Reduce spoilage and prolong shelf life – dried fruit, herbs, nuts and medication bottles
Prevent corrosion – electronics, camera equipment, tools
Stock:

In Stock

Model:

Dry-Pack-100g-X4