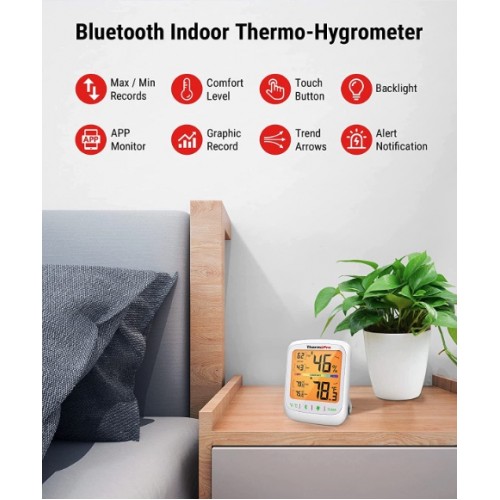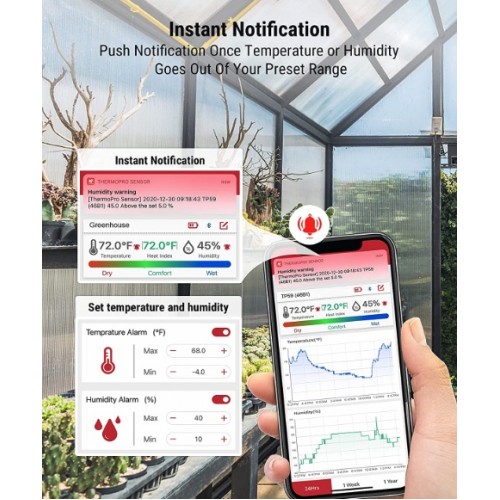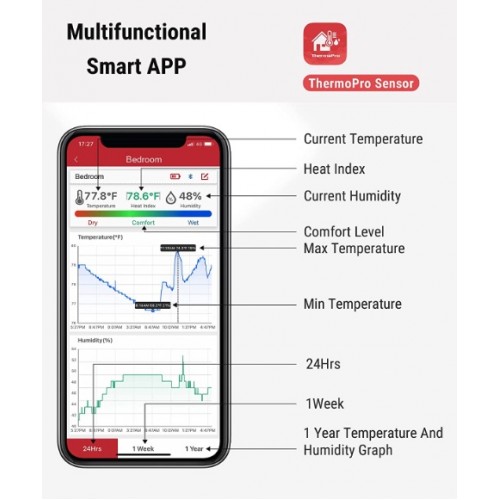 Meter Thermo Pro 5.0 Bluetooth Backlit Large Digit- Temperature/Humidity Monitor
The ThermoPro 5.0 Bluetooth Touch Backlit Jumbo Digit hygrometer | Easy read display in a compact Size Monitor
Ideal for homes, wine cellars and plant products along with equipment storage needs. Providing monitoring for humidity sensitive areas.
Allows you to check the temperature and humidity via bluetooth in cellars and storage areas where you need to monitor the moisture content in the air. This ThermoPro meter has a sleek design with a jumbo display that has backlighting at a touch of the button, so you can read the display in dark areas. Shows temperature and humidity readings precisely. The monitor has a handy flip-out stand for a desktop or magnet back for metal surfaces or easy hung on a wall. Switchable °C/°F. indoor use only.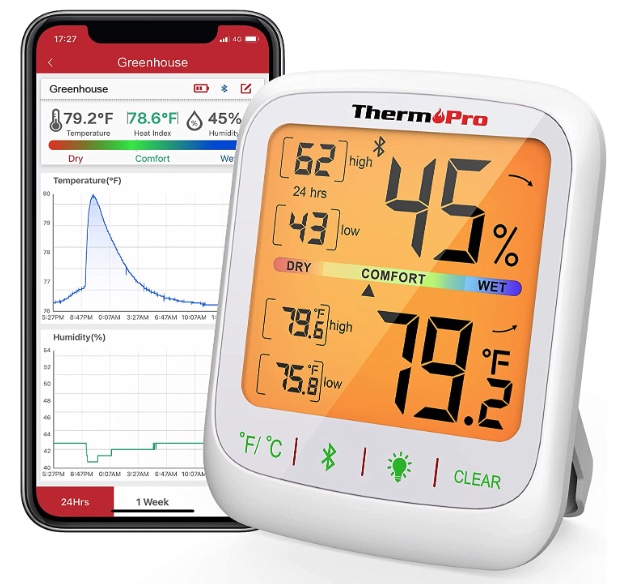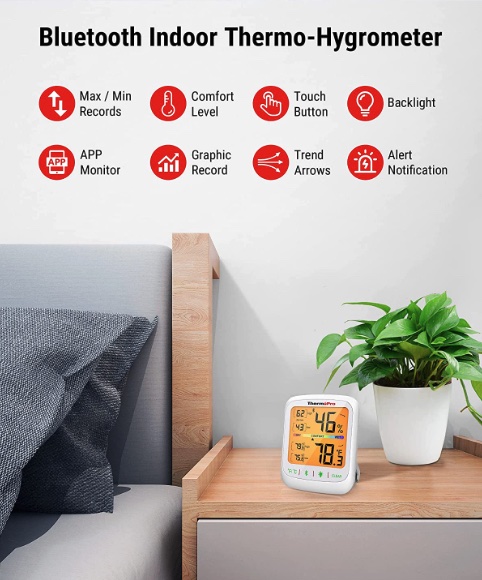 Suitable for measuring temperature and humidity inside your home or storage space, see below:
Musical instrument storage cabinets and inside pianos
Monitoring humidity levels for dehumidifiers
Technology storage cupboards - Cameras, lenses & computers
Grow tents and propagating areas
Reptile enclosure Hum/Temp monitoring
Plant Nurseries etc (not wet areas)
Features:
1.The bold, easy-to-read touch backlit LCD screen displays the current indoor temperature and humidity percentages.
1a. Wireless Bluetooth Range up to 80m line of sight
2. With temperature and humidity percentages including trend "Dry-Comfort-Wet" indicators.
3.Display stands upright for tabletop use or is wall-mountable.
4. Includes all-time / 24 hours high and low records for temperature and humidity.
5. You can simply reset the temperature and humidity.




Specifications
1. Touch button Orange 85mm diagonal display screen
2. Jumbo size digit display, Bluetooth up to 80M LINE OF SIGHT
3. Indoor Temperature range: -4°F~140°F (-20°C~60°C).
4. Humidity range: 10% ~ 99%.
5. Temperature tolerance: +/- 2.0°F (+/- 1.1°C).
6. Humidity tolerance: ±2% from 30% to 80%; ±3% below 30% and above 80%
7. Size 10.92H x 8.38Wx 2.54D cm
8. 2xAAA size batteries (included).

Stock:

In Stock

Model:

Meter-ThermoPro-BLUETOOTH-Backlit

Thermo-Pro