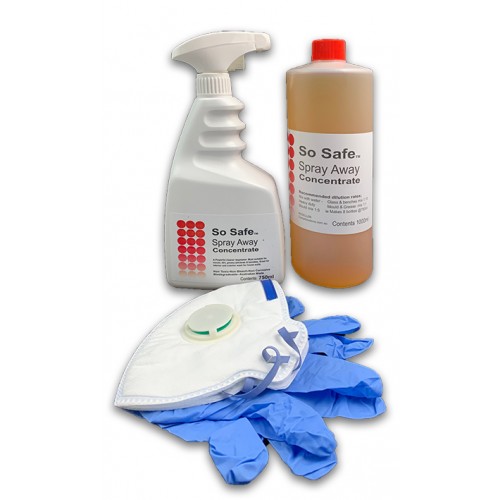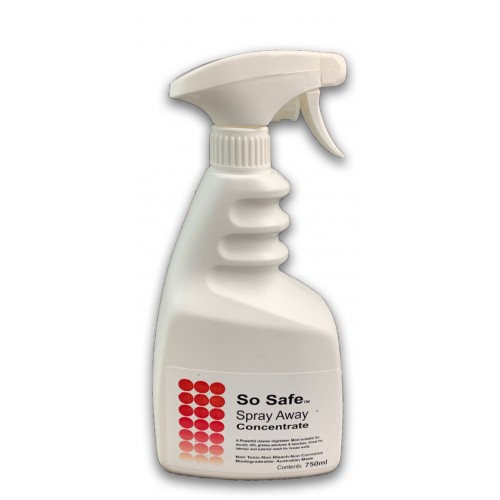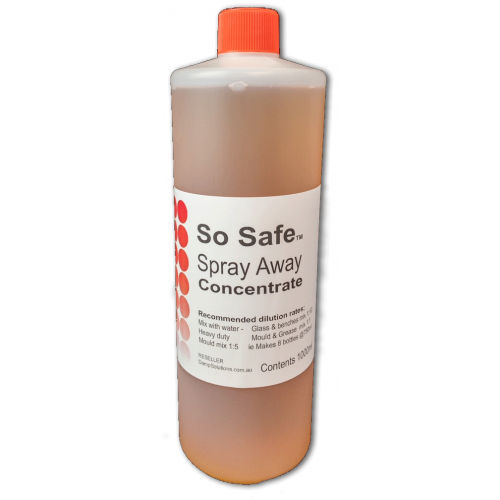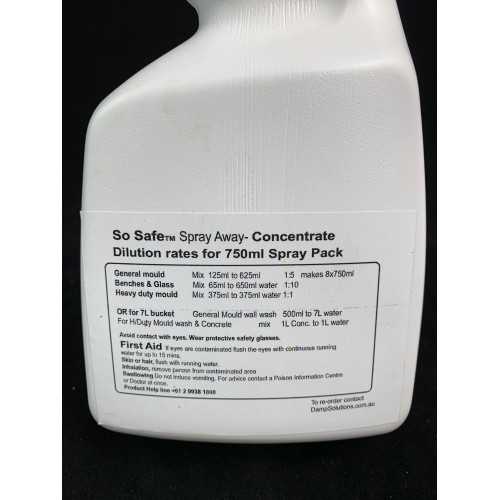 Spray Away Kit1|Bacteria & Mould Killer | Premix 750Ml + Larger 1L Concentrate | Non Toxic |Includes Mask+Gloves- SAVE $5
New stock

"Spray Away" Kit1 with 1Litre Concentrate | Makes 8 extra Premix Sprays | Bacteria & Mould Surface Cleaner Disinfectant
Great for another 8 refills. saving $**
Kills Bacteria & Mould SAVE $$ on refills when buying this kit!
Suitable for Bacteria & mould cleanups, any larger extensive mould outbreaks we would suggest you call a local a mould remediation or flood restoration company experienced in this field. company.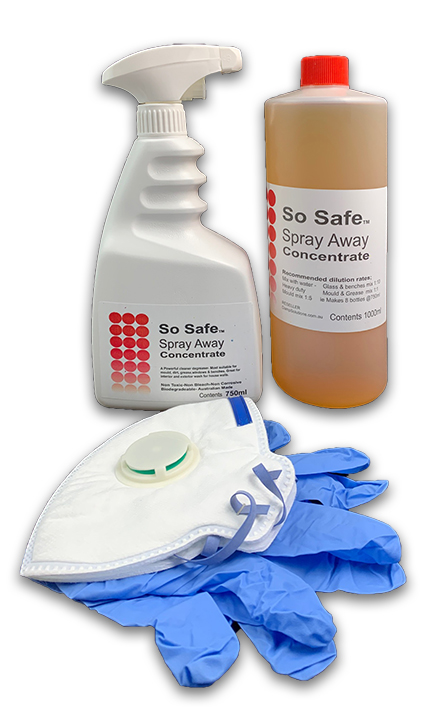 NEW! NOW INCLUDES larger 1L concentrate (makes 8 refills) + P2 Safety mask + Disposable Nitrile gloves ,
necessary for protection from Toxic mould and Bacteria. (also suggest to supplement with safety glasses)
Spray Away is Non-Toxic - Bleach Free- Alcohol-Free and safe around the home
Has a residual effect to lasts up to 12months indoor- dry areas, 6 months outdoors-wet areas
<< 500ml shown , has been replaced with new larger 1000ml Concentrate.
Corrosion Testing
Cleaning mould & Bacteria affected surfaces with Spray away.For more intensive air cleaning an "Air scrubber" may be required along with disposable coverall suits for protection from mould available from safety shops or online. Seek professional help from a "Mould Remediation" Company in your local area if the job is intensive.

Safety Data Sheet
*Add extra
"Spray Away"
mould killer surface spray cleaner for larger areas 1x 750ml per 2 rooms
Spray Away cleans internal surfaces affected by mould, fungus, moss and discolouration, returning the surface to its' original condition. When used indoors Spray Away''s residual effect continuing to protect the surface for up to 12 months after one application from mould spore and fungus. Wet areas expect up to 3 months of protection.
Spray Away is an ideal bleach replacement!
Approved by the TGA ( TGO 54 ) as a Hospital Grade disinfectant when used neat.
Spray Away is chlorine and bleach-free, a single part product with disinfecting characteristics. Spray Away is safe for use on almost any surface and includes environmentally friendly, biodegradable and naturally occurring ingredients. Ideal to remove mould, moss, mildew, pollution, dirt and other discolourations on interior hard surfaces including tiles, ceramics, grout, concrete, timber, walls and ceilings.
Coverage rates vary significantly depending on the porosity of the surface. Typically 10sqm area for the 750ml spray
Kit 1 (750mL) 1x pre-mixed spray, 1x Concentrate (1000ml)
1x P2 Safety mask, 1PR Nitrile disposable gloves
Hospital Grade Strength Disinfectant "Spray Away" is a potent indoor Bacteria mould, fungus and bathroom scum remover, which will return surfaces to their original condition. Spray Away works by not only removing visible contamination but also killing surface bacteria and mould, which would normally regenerate. Spray Away's residual effect will continue for up to 12 months**, and will reduce irritating allergens*.
*Moulds release spores and it is these spores that cause allergic reactions in people. Spores are microscopic particles released by moulds in their thousands into the atmosphere. Spores contact the skin and nasal and bronchial membranes, causing symptoms such as rhinitis, itchy eyes, eczema and most importantly asthma.
Concentrate (makes 8 more 750ml Premix bottles just add 125ml Concentrate to 625ml water) + Included pre-Mix spray, without the extra waste of containers, you add the water.
The majority of surface cleaners and mould removers on the market are typically chlorine or bleach-based. Cleaners with this chemical base shorten the life of the surface fixtures. Above are two images illustrating the damage a typical cleaner causes to nails & screws in 72 hours in comparison to the Spray Away cleaning variant. Furthermore, when SoSafe cleaner is used indoors it provides up to 12-month protection against future Mould & Bacteria coming back. In the bathroom this will reduce to 3 months due to water wash away.
Note: always handle mould treatment with care and wear safety gear to protect you from mould spores when cleaning.
When used as directed, the product is safe around children and pets.
Note: Shower grout mould will be killed by Spray Away, to reduce mould reappearing after scrubbing, use concentrate neat, leave the product on for 2-3 hrs or more with a soaked rolled up absorbent towel, The product will kill the mould to the roots, a black stain may still appear which can be bleached if needed. Note: Bleach doesn't kill mould or its roots, it bleaches it instead and will reappear.
Characteristics
► Non-Toxic ►Non-Flammable ► Non-Corrosive ► Non-Hazardous ► Biodegradable
Application Procedure
Always test "Spray Away" on an inconspicuous surface, to test compatibility.
Option One – For Mould & Mildew removal on surface of grout.
1. Spray on surface and leave. Spray Away will actively kill mould and mildew; results will be visible within a couple of days. (NOTE: A second application will speed up the process).
Option Two – For Heavy Mould & Mildew removal on tiles and other hard surfaces.
1. Spray concentrate on surface and leave for 20 minutes.
2. scrub surface & rinse.
NOTE: for light occurrences of mould and mildew simply spray and wipe. The residual solution will maintain a mould free surface for up to 12 months
Recommended dilution applications:
Glass - Weak mix 1:10 water
General Mould Use Mix 1:5 water ie 125ml:625ml water makes up a 750ml bottle
Heavy Duty Mould Use - Mix 1:1 water also good outdoor mould and concrete
Awards & Approvals
Australian Quarantine and Inspection Service (AQIS) Approval
for use in meat export (soon to be renamed Australian BioSecurity). This allows Spray away to be used in food preparation areas including commercial kitchens, bathrooms and abattoirs as a disinfectant.
Note: This approval in the industry will eventually lead to a different product name.
Therapeutic Goods Administration of Australia (TGA) Approval
Under TGO 54 Option A testing as a Hospital Grade disinfectant when used neat. This allows Spray Away to be used as a general-purpose disinfectant in hospitals. General-purpose means that it is for floors, walls, bathrooms and does not come in direct contact with broken skin.
Stock:

In Stock

Model:

Spray-Away-Kit1

SKU:

Spray-Away-Kit1