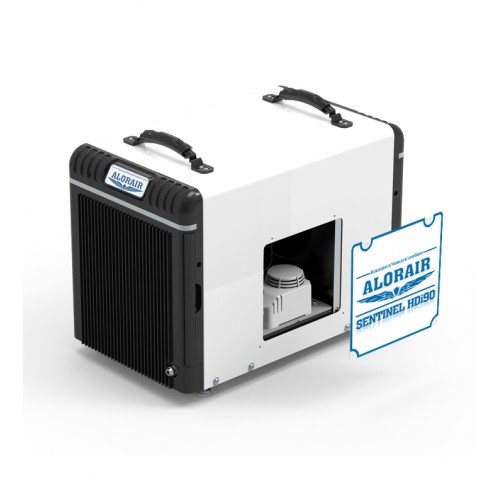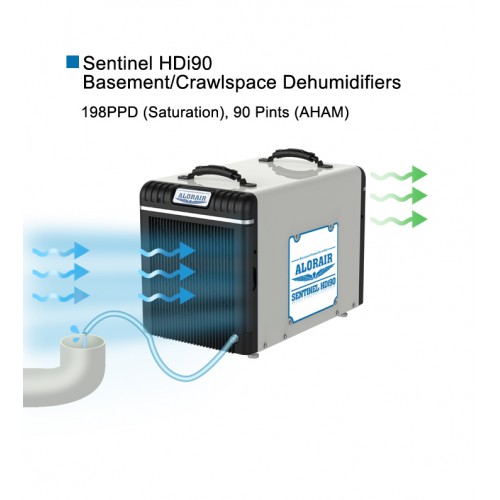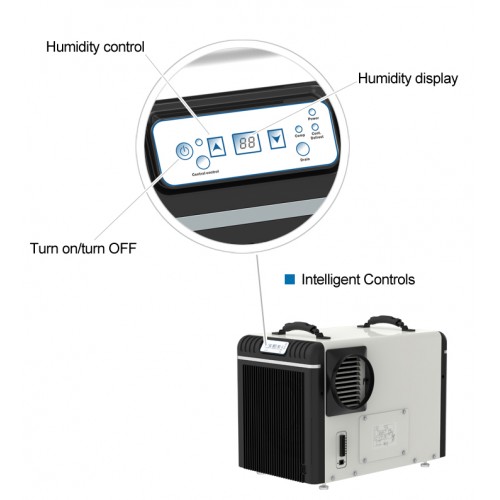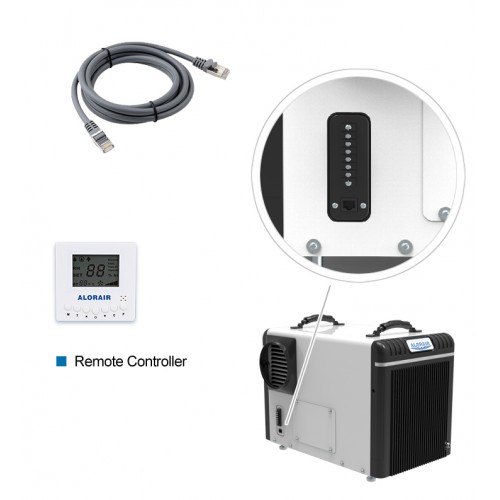 ARRIVED!





ALR-HDi90L Commercial 90L/day Ductable Dehumidifier
AlorAir ALR-HDi90L | 90L/day compact commercial dehumidifier
Heavy-duty, high build quality | Built-in pump|Low operating cost Capable of ducting into HVAC system.
The ALR-HDi90L | 90L/day @ 30degC 80%RH is a fully portable & stackable dehumidifier providing:
>>>Key Features:
Rapid drying and humidity control for a flood restoration
Drying buildings, basements, labs, storage areas etc
Process drying and general dehumidification
Handles up to max 600m3 area or 240m2
Great for small crawl spaces or flood-damaged areas
Ideal for condensation prevention.
Warranty 5yrs Compressor, Electronics 2yrs , Body 10 yrs
Standard features include:
Clean air Filter -washable mesh filter (also available as extras HAF, HEPA or Merv-8)
Epoxy Coated coils
Engineered for low- temperature operation
quick connector for pump & drain hose & power cord.
Small size for crawl space installation
Remote control (accessory) ordered separately
HVAC compatible. HDi90 with accessory duct plate can be ducted in line up to 10 ft Max..
Onboard pump with up to 5 mtrs head
6m Power lead -detachable.
Lightweight
Small adjustable feet,
Simple digital control with timer and error messaging,
Adjustable humidistat (1%RH increment), 35-95%RH
An efficient rotary compressor,
Automatic hot gas defrost and R410A refrigerant gas.
Duct options – An accessory duct plate with inbuilt filter, can be added to the sentinel HDi90 to provide focused dehumidification or allow you to dehumidify space where the dehumidifier can fit or you can use the duct (max 3m) to connect the sentinel HDi90 to the existing HVAC system for whole-house dehumidification.
Additional Accessories available as options:
| | | |
| --- | --- | --- |
| | | |
| cabled remote control | 300mm duct plate& filter | Alum ducting 300mm x 3m/6m |
USA Reviews 2019 (just introduced to Australia in June 2019)
Excellent product! I have had an Alorair basement dehumidifier in my basement for many trouble-free months. And it works like a dream! Love it! Not need to empty water tray or to clean the filter. It drains automatically and has a replacement filter. Ana on Dec 09, 2019
I bought this Sentinel HDi90 198 PPD Basement Dehumidifier on 5th last month. I like the looks, fairly quiet, and works very efficiently unless there is something wrong with it. I have friends who have this dehumidifier and haven't had any problems with it. Fintan on Nov 26, 2019
We have had this Sentinel HDi90 for almost 4 months now. I purchased the dehumidifier because I needed one that would shut on and off automatically. Sentinel HDi90 works well with pump because you can connect hoses down the drain. Rush on Nov 19, 2019
We use it in our basement and it kept moisture at bay through many humid summers. I'm pleased so far. Hilary on Oct 21, 2019
Specifications
Area Handling
up to 2600sqFt= 240M2 @ av room height 2.5m
Water Removal L/day @30degC 80%RH or @26degC 60%RH
90L/Day or AHAM 43 L/Day
Air Flow
350m3 /hr
Auto Features
Humidity Control Pump Out of condensate water Auto Restart
Noise dB(A)
58dBa
Temp Range
LGR model 1 - 40 Celsius
Humidity Range
35-95% RH
Power Supply & Use
220V 50Hz 950W (3.95A) includes 6m Detachable 10A Power lead
Refrigerant Type
R410A
Run Cost (av 10 Hrs)
$2.74
Pump Out
Yes up to 5m
Tank Size
Nil has pump out, comes with 7m Hose
Weight
35.5kg
Size LxWxH
590x388x450
Warranty
5yrs Compressor, Electronics 2yrs , Body 10 yrs
Stock:

In Stock

Model:

ALR-HDi90L

SKU:

ALR-HDi90L

AlorAir